SV300 Dispense Valve
▪ Poppet type dispense valve, with shaft inside, applicable to the dispense process with a certain glue volume.
▪ Dispense combined material with diaphragm model, bond, related liquid, etc.
▪ Applicable to volatile bond and cosmetics, etc.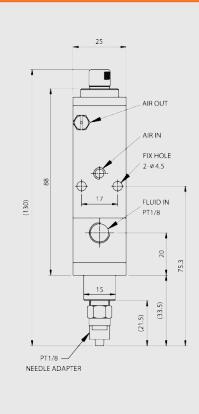 - With suck off function by poppet and diaphragm model.
- Prevent residual glue after dispense from happening, applicable to bond and related liquid.
- Applicable Material: bond, RTV, silicon, low-viscosity liquid, cosmetics, etc.
- Application Area: Dispense epoxy modeiling dispense on sensor, bond dispense and cosmetics dispense, etc.
- Maximum Hydraulic Pressure: 7 kgf/cm2
- Applicable Air Pressure: 4~5 kgf/cm2
- Applicable Temperature: 5℃~60℃